Home Modifications for Your Bathroom
Few bathrooms are designed with the ageing population in mind. Modifications allow people to carry out personal care safely, privately and independently.
Very few bathrooms are designed with the changing needs of our ageing population in mind. With many people aged 65+ choosing to remain at home for longer, modifications are often needed so that they can continue to carry out personal care tasks safely, privately and independently.
Home bathroom modifications can vary from simple and temporary, to complex and permanent. Not just for the ageing population, they are also often needed by people with chronic diseases and disabilities.
Simple bathroom modifications
Many existing bathrooms can be easily modified through the use of fixtures and assistive equipment. These include things like: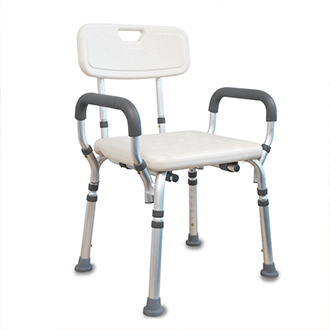 Shower chair – a standalone seat or bench designed to be placed in the shower and provide a convenient spot to sit while bathing. A shower seat is ideal for people who find standing difficult or who can experience episodes of dizziness.

Grab rails – these flexible rails feature strong suction ends that can be attached to any smooth surface in the bathroom like tiled walls and bath edges

Over toilet aids – positioned over an existing toilet, they help to raise the height of the seat to take pressure off the legs. Sturdy armrests provide additional support when moving on and off the toilet.
Shower commode – this combines the features of a shower chair and an over toilet aid. The fitted wheels allow the shower commode to be wheeled into place, while the open seat enables toileting and bathing.

Bath lifts – electronically lifts and lowers a person into a bathtub, allowing independent bathin. For bath users requiring assistance, it reduces the risk of slip and strain on a carer. They are secured to the bath using heavy-duty suction cups and also come with a remote control.

Dementia-friendly tapware – placed over the existing tap controls, they provide leverage when turning the taps on and off. The blue and red colours also make it easier to identify the hot and cold taps.
Our Buyer's Guide to Bathroom Mobility Aids has more information on what to look for when making simple bathroom modifications.
Moderate bathroom modifications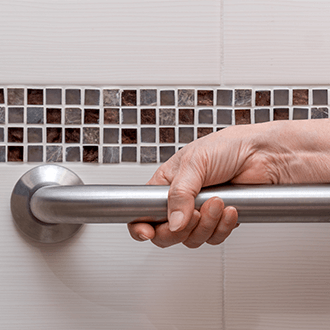 More permanent bathroom modifications might be needed, involving attaching fixtures or making changes to surfaces.
Handheld shower – a handheld shower head can make washing easier by allowing the user to clean hard to reach places. They can often be easily installed by a handyperson or a plumber into the existing shower area.

Fitted grab rails – depending on the need of the resident and the particular bathroom surfaces, some grab rails may need to be installed directly into the wall. A handyperson can help attach handrails directly to the wall studs.

Non-slip surface coating – tiled floors can become slippery when wet. While non-slip bath mats are one solution, in some instances you might prefer to coat the entire wet area with a non-slip surface.

Walk-in shower – if your existing shower features a lip or small step up, it can be difficult to wheel a shower commode directly into the shower. Turning your existing shower into a walk-in showers allows a shower commode or 4 wheel-walker to freely roll in and out.

Doorway modifications – standard doorways may not allow a wheelchair or other mobility aid to be easily pass through. A handyperson can assist with widening doorways and removing other obstacles throughout the home.
Complex bathroom modifications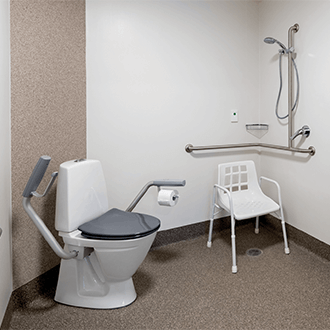 In some cases, bathroom modifications may involve changing the existing layout, removing walls between the bathroom and toilet, or installing specialised equipment.
Ceiling hoist – a ceiling hoist allows a user to safely maneuver between various areas of the bathroom. Operated via a track system, they can be used to move onto the toilet, into the bath and even to aid with dressing.

Layout changes – in cases where the existing layout of the bathroom doesn't support the resident, then a full renovation may be required. This can be a lengthy process and getting the right assistance is essential so that the finished bathroom addresses all the current and potential future needs of the resident.
Assistance and funding
While bathroom modifications can be costly – particularly more complex or specialised adaptations – they are often cheaper than alternatives such as moving into an assisted living environment. There is also the benefit of allowing the resident to remain in their own home, among the community that they are familiar with.
Certain bathroom modifications can be partially- or fully-funded through disability support schemes like the National Disability Insurance Scheme (NDIS), the Commonwealth Home Support Program (CHSP), state-based schemes or accident-compensation schemes. You can reach out directly to these schemes to find out if you're eligible, or you may be able to find out more through your occupational therapist or medical team.
Aidacare, MobilityHQ's parent company, is a highly experienced provider of home modification services. Their experienced team can help you identify the products and structural changes that can offer the support you need to carry out bathroom tasks safely and remain in the home for longer.