Small Mobility Scooters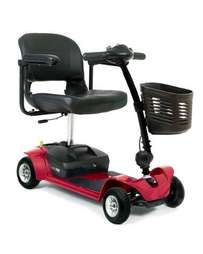 Right

Range: up to 20km
Offering maneuverability and convenience, a small scooter is ideal if you want something to get around on indoors and need to be able to fit it in the back of your car.
They have a smaller turning circle, which comes in handy navigating around a crowded shopping centre. Most of the models at this size fold-down or are easily dismantled so you can put them in the car. They can also be easier to take on holidays as checked baggage.
Of course a smaller size means smaller battery and less range per charge – only up to 20km. And the small wheels can make these less steady on uneven ground, and they can lack the power needed to get up steep hills.
Features you may find in these models
Easy to disassemble for transport

Small size for maneuvering through crowded areas

Basic suspension for a smooth ride

Removable battery for travel

LED front and rear lights for visibility

Front basket for shopping