5 Essential Tips When Buying an Adjustable Homecare Bed
Buying an adjustable homecare bed for a loved one can be an overwhelming process. With so many options available, it can be difficult to know where to start.
Buying an adjustable homecare bed for a loved one can be an overwhelming process.
With so many options available, it can be difficult to know where to start.
Here we have outlined some of the things you should consider before buying a homecare bed.
Consider the specific needs of the user
A homecare bed can be beneficial for people with a range of health issues and medical conditions, from hip and back pain through to respiratory problems and frailty.
Before you decide on a particular model, it's important that you consider the specific needs of the person using it and then identify which features are essential and which may be 'nice to have'.
As well as speaking with a doctor or occupational therapist, the knowledgeable team at Mobility HQ will also be able to help you narrow down your choices.
You might consider questions like: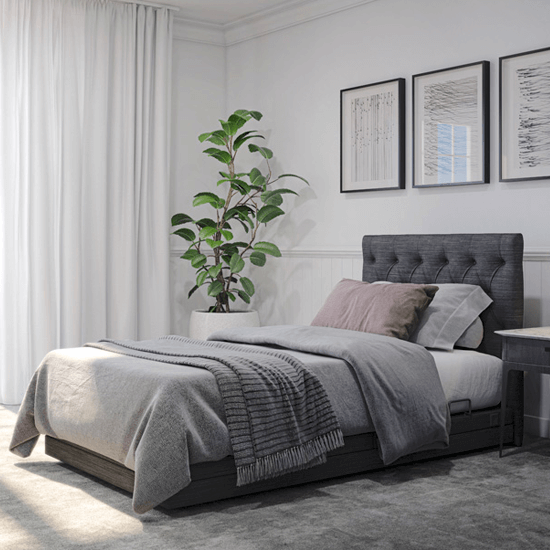 How much time will your loved one spend in bed?

Do they need assistance getting in and out of bed?

How mobile are they? Do they need help sitting up or moving around in bed?

Is there a risk of falling out of bed?

Are they able to operate a remote control?



Decide on the features you need
Once you've considered the needs of the person using it, you can decide on the features you'll want your homecare bed to have.
The main features of a homecare bed are the ability to adjust the back and leg sections. This allows your loved one to find a comfortable position for sleeping, sitting up and relaxing in bed.
Other positioning options include the ability to raise and lower the height of the bed, which can help with getting in and out of bed; and a Trendelenburg lift, which allows you to tip the bed so the person's feet are higher than the head, which can help with blood flow.
Beyond that, you might look for features such as adjustable side rails, castors so you can move the homecare bed around, and a light-up hand control for use at night.



Consider if design is a factor
While a homecare bed offers many benefits for people with health and medical concerns, traditional hospital beds for home can look too clinical. However, new styles of homecare beds look less like you'd find in a hospital and more like something found in the showroom of a furniture store. These modern homecare beds blend into your home's decor and look just like a standard bed.
However, in some cases, you will sacrifice function for style so it's important to first consider the essential features you need before exploring whether a modern homecare bed will work.



Buy a mattress that goes with it
Getting the right homecare bed is important. And it's just as important to choose the best mattress - after all, this is what you actually sleep on and can make all the difference to your comfort and a good night's sleep.
It can be helpful to buy your mattress at the same time you buy the bed so that you can considerhow they will work together. Not all mattresses can be used with a homecare bed. And if the user will be spending extensive time in bed, it's important the mattress is one that will minimise the risk of pressure sores.



Research accessories to improve your homecare bed
Once you've found the right homecare bed and mattress, you might also need a few additional accessories to along with it. These can help increase the comfort of your loved one or help carers provide better support.
There is a range of accessories that you can choose from. These include:
Bed rails and poles - these can prevent the user from accidentally rolling out of bed and give them something to hold onto while they get out of bed.

Tray table - this is a multi-purpose table that allows the user to eat, write, read or just store small personal items while in bed.

Bed trapeze - this attaches to the top of the bed or the ceiling and provides a handle for the patient to pull themselves up on or get out of bed.

IV pole - for people who need regular medication, an IV pole can be attached securely, without taking up extra floor space.

Companion bed - a companion bed is a matching stationery bed designed to sit alongside the homecare bed which allows a partner to sleep beside the user.

Mobility HQ is a leading supplier of medical aids across Australia. Our extensive range of products and friendly, knowledgeable team allow us to help you find the best solution for your needs.
Looking for more help to choose the right homecare bed for you? Read more in our Buyer's Guide to Homecare Beds or contact the team at Mobility HQ for personal advice.