Rollator Vs Walking Frame: How To Choose Your Mobility Aid
Both rollators and walking frames can be used to support you while walking. Find out the key differences to help you decide which option is best for you.
If you're looking for a mobility aid to support you while walking, there are many options available . Walking frames and rollators are designed to offer more support than a cane while giving you the freedom to move around independently.
Both rollators and walking frames provide stability for people who may be at risk of falling when walking. Because they support the upper body, they can help reduce the effort required to get around. And they're quite simple to use - once you've learned the correct technique, you can move around quite confidently.




What's the difference between a walker and rollator?
The main difference is that a walker is a solid frame with four legs which must be lifted to move forward, while a rollator is on wheels and is pushed.
Rollators are intended for people who need support while walking, but have relatively good balance and can confidently operate the brakes and stop when needed. Because the rollator moves freely when pushed, it allows for a natural walking pace and avoids the constant stop-start of a walking frame. The front swivel wheels also help with turning, making the rollator more manoeuvrable. Rollators are particularly suited to people who may need to rest frequently or carry medical equipment like an oxygen tank, as they are often fitted with a seat and carry basket.
Walking frames are a better option for people who need help with balance and stability as they can be used to support some body weight. To use a walking frame, you lift it and place it about arm's length ahead of you, then step forward. This provides support, but it can be slow going and is really only ideal for travelling short distances.
Walking frames are ideally suited to people who have issues with their balance and stability. The frame helps to support the body's weight and can also help while standing. However, you do need decent arm strength to lift the frame, and they're less suited for use outdoors.
Foldable frames make it easy to store the walking frame when not in use. The legs are height adjustable to suit a wide range of users. And accessories like wheels can be added to the feet to make the walker easier to use.
There are many types of rollators available and your choice comes down to how you intend to use it and the features that are most important.
Rollators tend to be made of a lightweight frame and feature either three or four wheels. Three-wheel walkers are easier to manoeuvre but are less sturdy, so should only be used by people who need minimal support when walking.
The braking system comes with either bicycle style levers or a push-down handle that engages when pressure is applied. Most rollators come with sturdy rubber wheels that can navigate uneven surfaces and can be used inside and out.
Foldable options it easy to store or take in the car. The addition of accessories like a seat, food tray or basket allows you to transport items with you and take occasional breaks when required.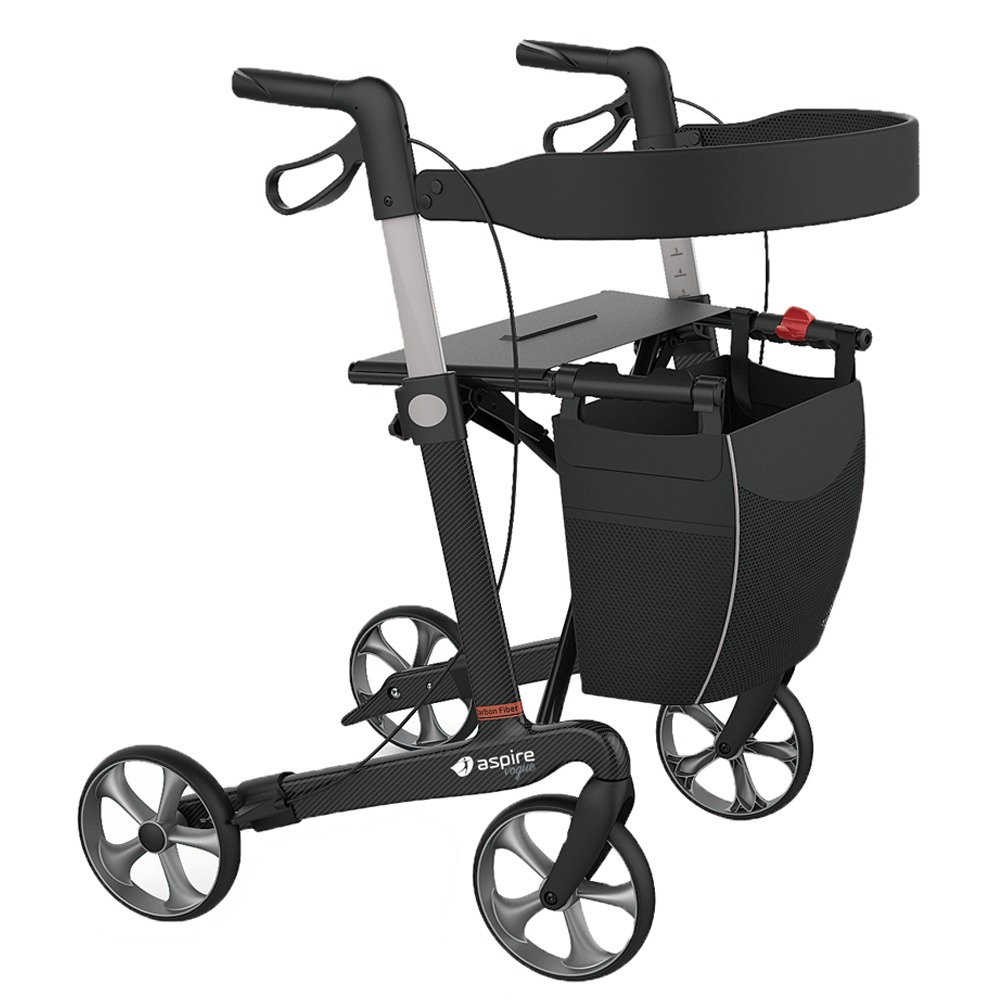 Aspire Carbon Fibre Walker
The Aspire Carbon Firbre Walker is a great example of the versatility and convenience of a rollator. This lightweight rollator features a sturdy carbon fibre frame and large, durable wheels.
This style is particularly suited to travel. Despite weighing just 5kg, the frame is strong and long-lasting. And it folds down easily to lock in place, allowing you to place in the boot of the car or store onboard most aircraft.
Looking for a walking frame, rollator or other walking aid? The experienced team at Mobility HQ can help take you through the options to find the right one for you. For more information, read our Buyer's Guide to Walking Frames and Aids or contact us on 1300 017 592.