An easy guide to bathroom equipment
Specialised bathroom equipment allows for simple, safe and effective modifications to the existing bathroom.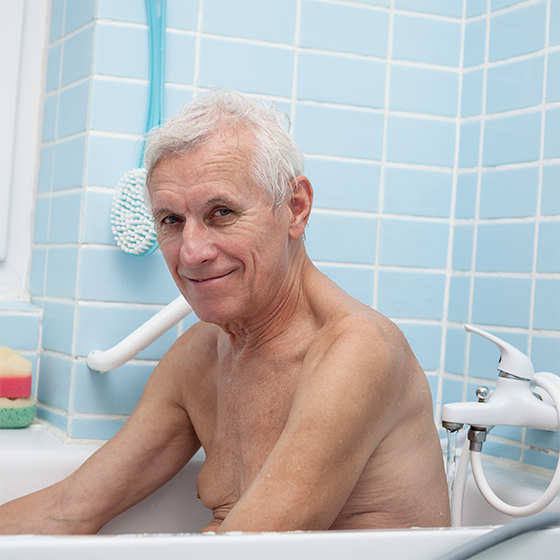 Creating a safe, accessible bathroom is important to give every member of your household independence and a greater sense of confidence. For people with limited mobility, the bathroom can present challenges in safely navigating the space and carrying out personal care tasks with ease.
Specialised bathroom equipment allows for simple, safe and effective modifications to the existing bathroom. This allows everyone to use the bathroom in a way that's safe and comfortable.
When choosing bathroom equipment, there are some things to consider.
The first is to consider your needs in terms of assistance in the bathroom. What are the tasks that you find difficult or uncomfortable? Are there tasks you'd like to be able to do independently that are not possible at the moment?
Also consider how you like to use the bathroom. Do you have a shower or bath? Do you prefer getting dressed in the bathroom or in the bedroom? Are there other household members who share the bathroom?
You can then look at the range of bathroom equipment to see which products will help you achieve your goals.
The range of bathroom equipment is extensive and includes toilet aids, shower commodes, bath seats, handheld shower roses, and so much more.
Over Toilet Aids
Over toilet aids are a practical solution to a too-low toilet seat. They sit over the top of the existing toilet, helping to raise the seat height and make finding a comfortable position easier.
Most over toilet aids are also designed with support arms to provide stability when moving on or off the toilet.
Here are two options to consider:
A lightweight, easy to use over toilet aid with height adjustable legs and a comfortable, contoured seat. It can be easily picked up and moved out of the way if needed (such as when other household members or guests use the bathroom). The simple design is easy to take apart and clean when needed.
This toilet seat raiser attaches to the existing toilet using the seat mounts. While this means it can't be removed as easily, the fixed seat means it will stay in place (and it can flip up for easy cleaning). The padded armrests provide additional stability and comfort when moving on and off. And it's height adjustable in 5cm increments to make sure the hips remain above knee height.
Shower seats
Shower chairs are designed for people who find standing in the shower difficult or tiring. The seats generally have a height adjustable treated stainless steel or aluminium frame with non-slip feet. They provide support while washing, and can also be used while towel drying and dressing in the bathroom.
Shower seats include a stool with adjustable height legs and fixed armrests for support, which is ideal for smaller shower spaces. Other available styles feature a moulded or padded seat for comfort and padded armrests. And swivel style options make getting into awkward shaped spaces easier.
This practical shower chair features a contoured plastic seat with large holes to provide easy access when washing as well as to drain away water easily. The contoured seat and height adjustable legs provide postural support. Raised armrests help with transferring on and off the chair.
A sturdy yet slimline shower stool that provides seating support for people with reduced mobility while showering. With a seat depth of 34cm, it's ideally suited to smaller spaces or shared bathroom spaces. The frame provides easy height adjustment and a broader armrest surface for those who find this more comfortable. An optional backrest can be added for extra support, along with padding for arthritis or sensitive joints.
This swivel shower chair provides 360° movement thanks to the sturdy base. It's ideal for getting into more awkward shower spaces safely, or to avoid having to turn and reach while in the shower. The chair can be locked into place at 90° intervals to prevent unwanted movement. It also features a supportive contoured chair with large drainage holes to make washing easier.
Bath seats
Bath seats are designed to span across the outer edge of the bathe, allowing for safe transferring in and out of the bath and a comfortable and supportive place to sit. They may also have a backrest, along with a handle for additional support. Along with a handheld shower hose, they allow for washing and bathing independently.
A simple bath seat with an easy to grip handle and non-slip surface that makes transfers safer. The small easy grip handle provides additional support.
The compact design makes this ideal for smaller bathrooms or shared spaces where a fitted seat is not practical.
Freedom Bath Transfer Bench with Rotating Seat
A premium bath transfer seat with a 360º rotating seat that offers extra support through all parts of the transfer. The padded backrest and armrest makes bathing more comfortable. The moulded seat with safety belt keeps the user safe while transferring and bathing.
Mobility HQ offers an extensive range of bathroom mobility aids. Our knowledgeable team can help you find the right equipment for your needs.