The importance of safe showering and bathing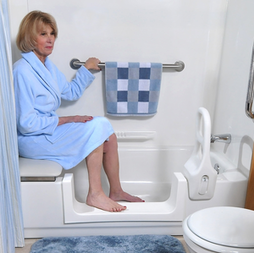 Left

Showering and bathing isn't just about personal hygiene when you get older. Laying in a warm bath can provide relief from muscle and joint pain and can also just be a way to distress. Likewise, a refreshing shower can help to invigorate the body and provide a sense of freshness.

However, bathing and showering can also bring with it a lot of anxiety. A fear of falling, dizziness or inability to manage things without assistance can make this normally pleasant ritual something to be avoided.

Meanwhile, the bathroom is the second most common area around the home where the elderly experience a fall resulting in injury. And not only is falling more likely when you are aged 65 or older, the risk of injury – both minor and major – also increases. So it's important to take steps to make the bathroom as safe as possible to reduce this risk and make bathing a relaxing and comfortable experience.