Assistance with showering and bathing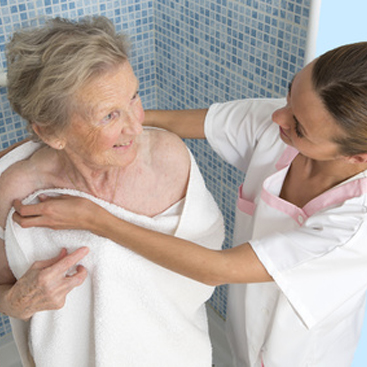 Left

Even with the use of bathroom aids, there may come a time when your loved one or parent will be unable to bathe without assistance. This may be due to mobility issues, dizziness or a loss of cognitive ability.

It's important that you allow them to guide you on the assistance that they need, especially if they are still able to undertake most tasks without assistance. Create a dialogue by voicing your concerns, then listen to them and allow them to present potential solutions.

Your occupational therapist can help you understand the different ways you can help with bathing and showering tasks.
They'll be able to show you ways to transfer in and out of the shower or bath and help with washing and dressing while maintaining their privacy.

Bathing and showering can bring up very real fears, especially if there have been incidents of slips or falls previously. If you're helping a loved one to bathe, try to make the experience as relaxing as possible. Arrange to do it at a time when you're not rushed and are feeling awake – this may be in the morning or late afternoon, depending on both of your schedules.

Take things slow and explain what you're going to do before you take each action. Keep the bathroom warm and have plenty of towels available.