Walking aids and travel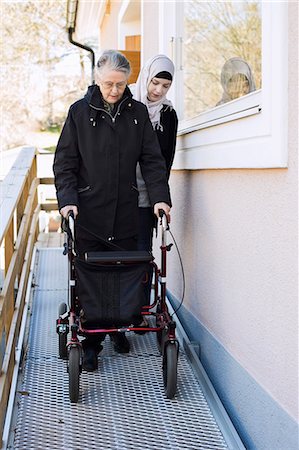 Right

Because walking frames and aids are so lightweight and mobile, they can travel with you everywhere you go so you'll always have it to hand. Some walking aids can also be folded up for even easier transport and storage.

You'll be able to take walking aids on public transport, but it may be more difficult if you're catching an older style bus or tram with steep steps and a narrow doorway. In this case, see if your route offers accessible services. Sometimes the operator will add an accessible service if you request it in advance – so it doesn't hurt to check.

If you're travelling by plane, you can generally take a cane or crutches on board with you. The crew will get you seated and then stow your walking aid until you land. For safety, walking frames and rollators can't be taken into the cabin unless they are foldable, in which case they can be stowed on board. Otherwise, your walking frame will be placed in the hold. If you're not sure about whether you can take your mobility aid on board, it's best to speak directly to your airline.

Browse the full range of walking aids and frames available from Mobility HQ