What is a lift and recline chair?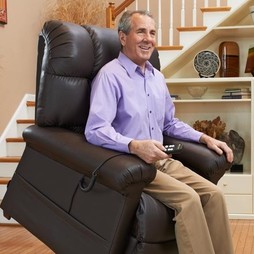 Left

Lift chairs may also be known as rise-and-recline chairs, power lift recliners, electric lift chairs or medical recline chairs. They come in a variety of sizes and styles are available in small to large widths.

A lift chair looks very similar to a standard recliner and works in much the same way by allowing the user to recline for comfort (or perhaps a quick afternoon nap). The key difference is that a lift chair not only reclines but also provides support when going from a seated to standing position. Rather than having to lift yourself – which can cause strain to the shoulders, arms and hips – an electric lift chair gently stands you up, reducing fatigue and possible injury.

For carers, an electric lift chair can make caring for your loved one easier. Back injuries associated with lifting someone are common with carers. However, a lift chair can help to prevent injury by assisting with the transfer of the user from one position to another.