Getting Around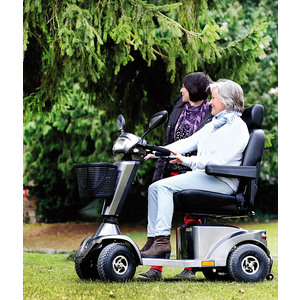 Left

Ticket to ride?
Mobility scooters are designed to travel on the footpath and anywhere else pedestrians can go. They're not considered a motor vehicle and they can't travel on the road, except when crossing or where there is no footpath.
Generally you won't need to register your mobility scooter as they aren't considered a vehicle. The exception to this is Queensland, where you will need to register your scooter with the Department of Transport and Main Roads if you intend to use it outside. Registration is free and includes third party insurance.
It is recommended you check the regulations in your state before you buy a mobility scooter as they may have changed.
Make sure you're aware of the road rules for pedestrians and that you know where you can and can't take your scooter. Take extra care when travelling through crowded areas like shopping centres, and when crossing roads when there are no traffic lights or zebra crossing.

Mobility scooters and public transport
As a general rule, mobility scooters are permitted on public transport and treated like wheelchairs and other assistance aids. It's essential you plan your trip before you set out so you can be confident you'll be able to get on and off at your destination. Allow extra time to get there.

When travelling by train, position yourself at the front of the platform where the first carriage will stop and make sure you're visible to the driver. They will lower a ramp for you to get on, then ask which station you're travelling to so they can help you to disembark.

If travelling by bus or tram, check your route to see if it offers any accessible services. Sometimes the operator will add an accessible service if you request it in advance – so it doesn't hurt to check.
Wait at the tram or bus stop where you are visible. The driver will extend a ramp to help you get from the kerb onto the bus or tram. When it comes time to disembark, they'll extend the ramp for you again.
While restrictions vary between states and transport, generally all mobility aids including wheelchairs and scooters should:
fit within a space of 1300mm (length) by 800mm (width)

be no more than 750mm wide

have a maximum height of 1500mm
While your mobility scooter will generally fit within these guidelines, if you've added any accessories like a canopy or flag, you may exceed it.