5 Daily Activities You Can Do for A Healthy Mind and Body
Social distancing is essential but isolation can impact physical and mental health. Here are things you can do daily to keep your mind and body healthy at home.
With many of us now being told to stay at home for the foreseeable future, there's a good chance you're feeling a sense of uncertainty. One of the main methods we know will slow the impact of the virus is social distancing. And while this practice is essential to keep our community safe as a whole, there's a question about the toll it will take on our mental health.
We know from the research that prolonged periods of time spent indoors or alone can lead to 'cabin fever'. Observations of space missions, for example, show that people can experience varying levels of irritability, stress and anxiety when confined for weeks or months.
Not only can isolation affect your mental wellbeing, but it can also impact your physical health. For example, heart failure patients are more likely to require hospitalisation if they report feelings of social isolation.
However, there are things that you can do to keep your mind and body healthy during the lockdown period.
Maintain a routine
Maintaining structure in your day is essential to keep your mind and body active. Having a set routine – such as when you wake up, eat meals and go to bed – can help improve resiliency and avoid periods of boredom and mental fatigue. Having a regular routine also ensures to keep up the other activities that will keep you healthy and connected.
Get some fresh air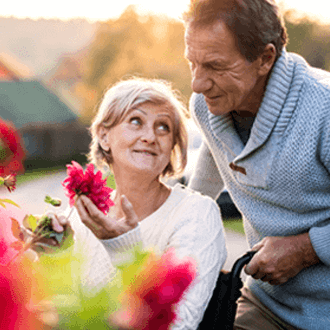 It's essential that we stay at home as much as possible. But you are permitted to go outside for fresh air and exercise. Even if you can't go for a walk, just standing at the front door can improve your health.
Research has shown that spending time in nature – or even open, grassy spaces – can reduce anxiety and depression. Just make sure you remain 1.5 metres away from other people at all times.
Move your body
We all know how important it is to exercise regularly. And while you may have to adapt your fitness routine to the home environment, it's essential that you find ways to move your body every day.
There are lots of options, depending on your level of fitness and what equipment you have at home. You can create a simple fitness circuit using a chair and a few heavy cans. Or head online and search for free fitness videos on YouTube. View MobilityHQ exercise equipment.
Connect with friends and family
Just because you can't spend time with the ones you love doesn't mean you can't find ways to connect. This might be as simple as phoning a friend for a chat, joining in the conversation in a Facebook group or getting together with your family for a group video call.
You could also reach out to your neighbours and check on how they're doing. Drop a note in their letterbox or sit by the front door and chat to passers-by (from a distance). It's important that we as a community remain together, even as we need to be physically distant.
Meditate or slow down
The constant updates and endless news streams can become overwhelming and cause more distress. While it's important to be informed, it's also vital that you switch off and take some time out for yourself.
This might be the time to start a meditation practice. Meditation has been shown to reduce stress, improve your mood and help you sleep better. Download a meditation app for guidance, or look online for free videos.
If meditation is not your thing, then a creative practice like painting, colouring or drawing can give you similar benefits. Switch off the television and allow your mind to wander.
If you are feeling overwhelmed or anxious at any time, there are plenty of places to reach out to. Beyond Blue offers phone counselling on 1800 512 348, as well as a free forum and resources to give you more guidance. You can also reach out to Lifeline on 13 11 14. And if you are in need of immediate help, contact emergency services on 000.