Mobility Scooter During Lockdown
A mobility scooter can offer more than a way to get around during lockdown. It can also help reduce the risks that come with going out into the world.
With restrictions on movement, visitors and social outings, so much of life as we know it has changed this year. The continuing effects of the pandemic have been far-reaching and many people have had to dramatically alter their regular routines.
Through it all, mobility has been an important issue. Not only in terms of reducing the spread of the virus but also in how we cope with the demands of physical distancing and social isolation.
While we need for social distancing continues, a mobility scooter not only offers a means to get around, it can also help reduce the risks that come with going out into the world.
Instead of needing to take a taxi or public transport to get to the shops or a doctors appointment, for example, you can use your scooter to get there with ease while avoiding spending too much time in close proximity with strangers.
Can I use a mobility scooter during stage 3 and 4 lockdowns?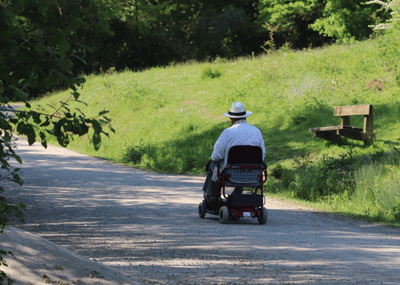 Mobility scooter users are subject to the same rules as pedestrians. Which means that for those Australians currently under restrictions you can still use a mobility scooter, as long as you're heading out for one of the allowed reasons.
Currently, the Melbourne metro area is under stage 4 lockdowns until at least mid-September. This means that residents are only allowed to leave the house to shop for essential supplies within 5km from their home, as well as for up to an hour of exercise a day. Leaving for work is restricted only to those people deemed essential.
The rest of Victoria is under stage 3 lockdown, which means residents can only leave the house for one of four reasons – including work, care, shopping for essentials and exercise. Victorian residents are also required to wear a face mask when leaving the house.
The other states in Australia aren't under lockdowns, but it's still highly recommended you wear a face mask and social distance when you head out, especially if you are living in a current hotspot, are in close proximity to large numbers of people, or you're in one of the high-risk groups.
How can a mobility scooter help during lockdown?
Maintaining a daily routine is important to keep your mind and body healthy, particularly now. Getting outside for some fresh air and movement can help lower your stress levels and give you something else to focus on. Having a mobility scooter gives you the ability to head outside in comfort.
It's also ideal if you need to go shopping to pick up essential supplies. Being able to move smoothly and efficiently through the supermarket will limit the amount of time you spend in close proximity to other people.
And as we move beyond lockdown and life heads back to normal, staying independent will continue to be important. With your own mobility scooter, you can go where you want, when you want, without being reliant on other people.
What to keep in mind when you're out on your scooter?
Make sure you check with your state or territory government about the current restrictions in your area. Also be aware that certain groups are encouraged to stay home, including people aged over 70 and those with underlying health issues.
When you do head out, carry a face mask and hand sanitiser with you to keep safe, as well as a phone if you need assistance.
More than anything, keep yourself safe and well so you can continue to enjoy life now and when things return back to normal.
Find out more about owning a mobility scooter with our comprehensive Buyer's Guide.